Local Bulk Trash Services in Palm Beach Gardens, FL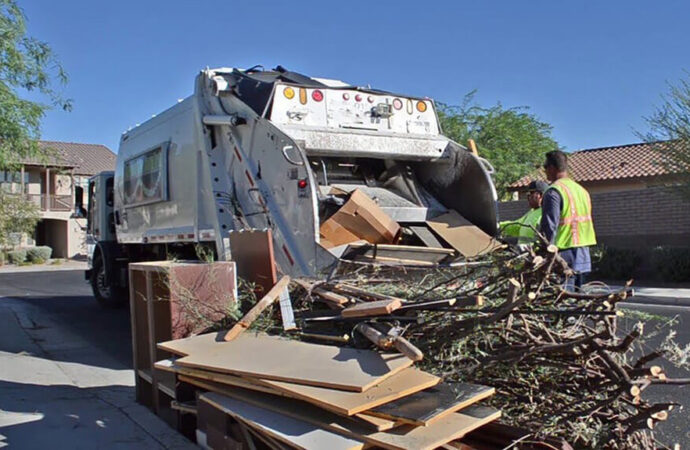 Has there been some heavy moving or shifting? Or do you need some reliable sources to handle the large trash? If your answer is definite, we know what to do. Bulk trash is always hard to manage, especially when you lack proper facilities.
But it's not the case with us. We at Palm Beach Gardens Junk Removal and Trash Haulers, deal with the bulk trash or junk in the most appropriate manner. We have the best containers or trucks which can fit almost everything.
Be it patios, sofas, television sets, air conditioners, and we cater to all your needs. Be it bulk or a small amount of trash. Trash always plagues the view of a property. If you want to get rid of the garbage, and that too quickly, then our people can lend you a hand.
Not a hand actually, we can handle the process on your own. We promise to produce the results within hours of commencement. 
Why Choose Us
---
We have got professionals with us. Each person is certified and trained to perform the best. Our people are humble and easy to communicate with. So, we assure you that it would be a great experience with us. Also, they never negotiate with quality.
Thus, you shall see the most professional approach with the best possible results. You can always refer to our previous customers for more insights. Every customer speaks highly of our services.
Do you love discounts? If so, then we have got some surprise for you. We are used to delivering services at discounted prices. This helps us to elongate our reach to the customers. Also, instead of looting the customer, we try to provide a quick but dependable solution.
Our experience in this industry shall help you deal with every problem related to trash. We exist in the market for the last 27 years and still going. Our company holds a track record of tons of happy and satisfied customers. So, it would not be a wrong decision to choose us.
We are registered, insured, and licensed. And this shall be more than enough to let you believe us. We specialize in bulk trash and hauling services. Therefore, you shall be in no hands better than us.
Items We take
---
If you found us appropriate for you, then we would be glad to let you know about what we collect. Our company is capable of hauling or removing the majority of the waste. Except for the hazardous and toxic waste, we can help you get it all done.
Bathroom Equipment

Kitchenware and Kitchen Equipment

Unwanted Furniture

Appliances

Mattresses

Doors

Carpets Pellets

Fencing

Significant items for your Dustbin

Office and School Supplies
We at Palm Beach Gardens Junk Removal and Trash Haulers, demand a chance if you are unable to find some dependable resource for hauling. We know it might feel devastating to have your place filled with unnecessary items.
But it is not going to vanish on its own. Get in touch with our experts. They shall let you have the best experience. Also, you shall be relieved of all the worries caused by those unwanted things.
Here is a list of our services you can get at Palm Beach Gardens Junk Removal and Trash Haulers:
---
Palm Beach Gardens Junk Removal and Trash Haulers is the top company in Palm Beach Gardens that offers the best residential and commercial junk removal services. Here's our additional services:
---