Local Rubbish Junk Removal Services in Palm Beach Gardens, FL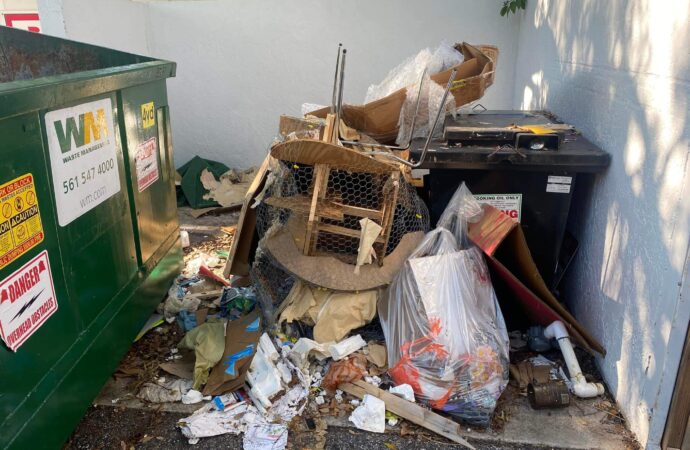 Most owners have a hard time dealing with general rubbish junk removal for several reasons. One of them being the problem with municipal services and how they cannot pick up all the junk and waste in most cases. It is not a difficult problem, but it can be frustrating to find companies that can properly handle it if you cannot rely on municipal services alone. Fortunately, if you're in the city or nearby areas, our company offers general junk and rubbish removal services. Contact Palm Beach Gardens Junk Removal and Trash Haulers today, and we will be there to support your needs.
We can arrange for regular pickups as well as one-off services, so you handle the exact amount of junk you have without extra fees. We will also make sure you don't get buried under junk or rubbish, as long as it isn't dangerous and hazardous, since this is our only limit in what we can pick for you or not.
We are the best junk removal company in the area. We will take anything you can fit into our trucks and only charge for the volume. 
We are eco-friendly and will recycle all of your trash as well. All waste that is not recyclable will be moved to transition centers in order to reduce the amount of waste generated.
You don't need to rely on municipal services or worry about how a company can handle your rubbish and trash removal needs. We're here to help you and deliver the support and assistance you need for everything without problems.
How Much Will This Removal Cost You in the City?
It can be difficult to price junk because everything is based upon volume, work involved, and how much we need to take into account the removal, whether it is a recurring or one-off service or if you need any special attention and service.
Volume refers to the space your rubbish takes up on our trucks. It's easier to get an estimate in person than to do it online since we should consider the space that your junk takes up on our trucks and how we can help. Or, just come by so we can do a proper assessment and give you an estimate and make sure you get all the details from the pricing.
Our crew will inspect your trash and visit your location. We will provide you with an exact price as well as a free estimate, which comes with no obligations.
Any questions are welcome. We will also look at how to dispose of certain items and trash that you put in the garbage cans.
We can remove cabinets and drawers from walls and fixtures now that we are on the topic. This is the fastest method to get rid of rubbish, and we can also lift other items and types of rubbish in your place.
We'll take away all your rubbish and clean it up, so it is ready for you. This will allow you and your friends to use the space immediately.
Our clients need to be aware of the importance and ethics of waste disposal and recycling. We will always find environmentally friendly ways to dispose of your rubbish.
We can handle all of your rubbish disposal needs, even commercial properties.
Here is a list of our services you can get at Palm Beach Gardens Junk Removal and Trash Haulers:
---
Palm Beach Gardens Junk Removal and Trash Haulers is the top company in Palm Beach Gardens that offers the best residential and commercial junk removal services. Here's our additional services:
---