Local Eviction Clean Outs & Services in Palm Beach Gardens, FL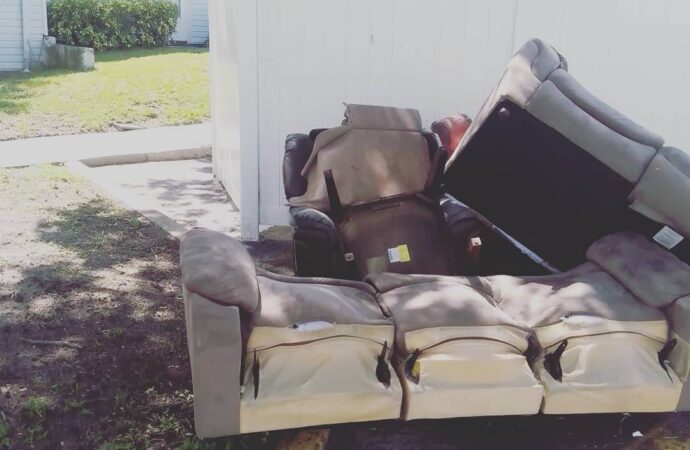 We can start thinking about how we want things to work and how everything should be simple regarding landlords, tenants, owners, and the renting process. Property owners and landlords won't need to worry about how they handle expulsions or evictions if everything worked well and based on the agreements. Tenants would need to pay their rent on time and leave their property in good order when they leave. That's the basic idea, but this isn't always easy. Tenants often get evicted because they don't follow the rules and leave their property in disarray, leaving you, the landlord, or just anyone handling the property with some problems a hand and an eviction clean out to deal with.
Trusted and experienced eviction teams will provide you with the best support and service so that you don't have to lift one finger to get it done, and we happen to be the best company for it at Palm Beach Gardens Junk Removal and Trash Haulers.
No matter the size of your property, we are qualified. In a matter of hours, our experts will return your property to its original condition and ensure that all items that are not required are moved to the most appropriate places. 
We can store junk and other items left behind by tenants who aren't able to pay or will probably come back to claim them despite the eviction and how everything is being done. They will be saved following the regulations, laws, and limitations for eviction.
Is eviction clean out a service that you require? Is this about finding a cleaning service that will clean your place only? Or is there anything you should know before you hire us?
First, you should know that an eviction clean out is the removal of personal property belonging to tenants after an eviction or when you need to accommodate the space and finally remove anything that doesn't belong in the space.
Whatever number of tenants have moved out, or regardless of how the eviction process is taking place, we will ensure that any items that are not easily removed and those that can be returned by tenants are stored in the correct places.
Our professional team will work with local law enforcement to assist tenants in returning their possessions, and we will be there for you to handle any issues during the clean out.
What Do We Remove During the Cleaning?
Palm Beach Gardens Junk Removal and Trash Haulers will take away any junk from your home and place it curbside. We can remove junk and appliances as long as they aren't hazardous and focus on everything that is left on the property.
During eviction clean outs, we will make sure there isn't any junk or waste left behind.
Our team will take away furniture, appliances, or other non-hazardous items and recycle them or dispose of them as soon as possible.
It can be hard to organize and clean up after expulsion. We are here to help.
It is important to hire us as part of your team in order to speed up the eviction process.
We will manage the entire process for you to protect your investment. Any size property can be handled by any member of our team. Call us today to get a free estimate, schedule professional eviction services, or email us.
Here is a list of our services you can get at Palm Beach Gardens Junk Removal and Trash Haulers:
---
Palm Beach Gardens Junk Removal and Trash Haulers is the top company in Palm Beach Gardens that offers the best residential and commercial junk removal services. Here's our additional services:
---