Local Demolition Removal Services in Palm Beach Gardens, FL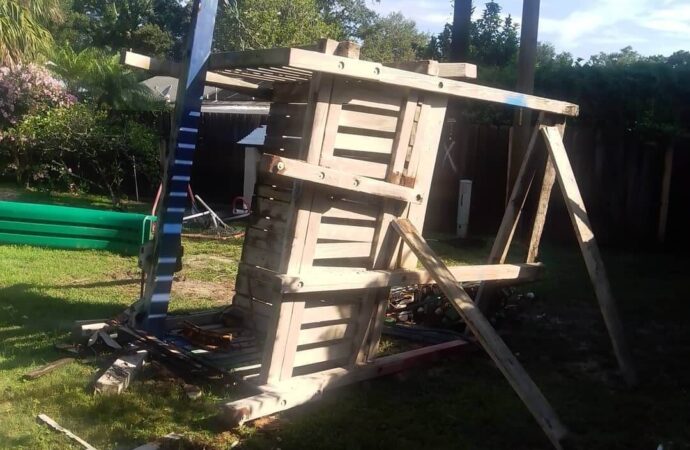 Even if you are a skilled contractor, it can be challenging to remove all the debris from demolition projects considering how it isn't only about the concrete, wood, and all the materials, but also the quantity and how it needs to be handled, transported and disposed of. It can be difficult to get rid of large-scale projects or demolitions if you don't have the right equipment, experience, or time. It doesn't matter what kind of work you do; disposing of leftovers can be expensive and time-consuming. Palm Beach Junk Removal and Trash Haulers will provide all the assistance you need to ensure that your demolition is done correctly. As requested, we will be available to provide either recurring or one-time services for this demolition removal and focus on how everything should be handled based on your project as well.
Our team offers a safe, efficient, and environmentally-friendly service for disposing of demolition waste and making sure that the demolition taking place is controlled by several pickups and removals if necessary so you can keep the space all clean if you still need to complete the demolition and all the removal of debris, waste, and more.
Our company and members will make sure that there is no demolition debris left on your site. This will allow you to move forward with your project or close it down once you are done so you can say you have completed the demolition.
How do you get us there? To schedule an appointment or get a quote, call us. Our insured and professional hauling crew will visit your site to assess the demolition. They will assess all debris and junk left behind, and you can always email us or use our contact form if this is more convenient for you.
We will develop a plan and decide how to proceed. Once everything is in place, we will provide you with a detailed quote.
The amount of work required, the removal process, the junk removal, debris, and any other part that requires more work will all affect the cost of your project.
We simply collect the debris and transport it to our junk trucks. There are no hidden costs, and you don't even have to lift one finger to get all the debris and waste removed.
How We Simplify the Process
Our company has a certified and licensed team that can lift and remove non-toxic items. They can also assist you with items that are too heavy or difficult to lift, and everything related to the debris and junk of demolition can be handled.
We can remove all debris from demolition and other processes and make sure that everything runs smoothly.
There are many sizes and types of dumpsters that can be used for hauling away all kinds of debris. Renting a dumpster is a great option because of its cost and ease of use. While you can have the debris taken away by us, renting a dumpster allows for more space, and you can work on it if you are more limited in the budget as well.
Only pay for what you use in the dumpster. If you're not sure how to manage the process, dumpster rentals are a great option.
If you'd like us to manage the entire removal, let us know. We will make sure that everything is done correctly and in detail.
We can safely and responsibly remove all debris, rubble, or shingles, and all it takes is a call to our company Palm Beach Junk Removal and Trash Haulers.
Here is a list of our services you can get at Palm Beach Gardens Junk Removal and Trash Haulers:
---
Palm Beach Gardens Junk Removal and Trash Haulers is the top company in Palm Beach Gardens that offers the best residential and commercial junk removal services. Here's our additional services:
---