Local Office Clean Out Dumpster Services in Palm Beach Gardens, FL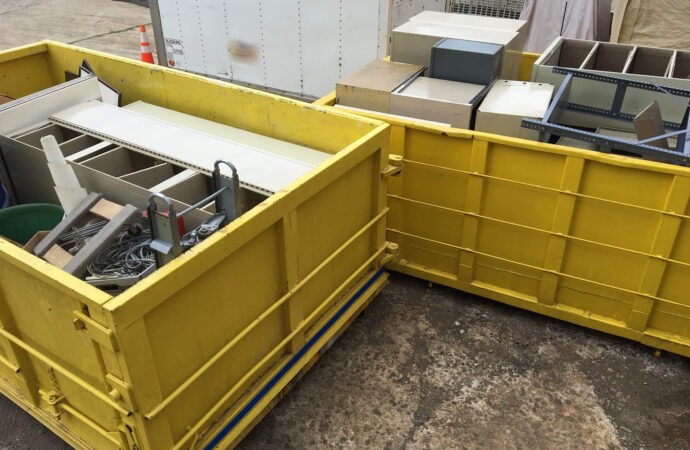 Any workplace which can be the office, factory, or market place is mostly cluttered with items that are either unused or overused. The amount of cluttered items is directly proportional to time and the number of people visiting that place. An office is a workplace that contains every kind of waste ranging from piles of papers to e-waste—woodwork like unwanted old fashioned office cubicles, worn-out desks, chairs, etc.
Electronic items like printers, computers, etc. are also a part of office waste. These items have to be recycled as e-waste before dumping them into the trash. We are Palm Beach Gardens Junk Removal and Trash Haulers. We deal with rental dumpsters for all of your waste management needs. We provide Office Clean Out Dumpster Services. An office is a place where there is no end to the constant hustle-bustle. It remains occupied all the time.
To manage waste in an office is often a time-consuming task and demands attention. It needs proper scheduling of time to declutter when office demands are at its lowest. It is a daunting task to declutter an office. In case you are renovating your office place, the waste will also include dirt, concrete, worn-out cables, etc. We can help you manage your office waste in every case.
For efficient waste management, you have to start by accessing the condition and usage of office goods. Goods should be sorted into three piles: keep/reuse, recycle/donate, and discard. Items that are to be discarded should be hurled into the dumpster. Items to be kept should be arranged systemically. An on-site dumpster acts as a stress buster.
About our services:
---
Recycling: For office cleanout, official junk after being picked up from the site is screened for e-waste, and the waste is given to the e-waste recycling facility. Wooden items, if these are in not a very bad condition, are given in donation. We do not let any useful item to go useless to any extent. We sort, toss, recycle, donate and finally dispose of every item in your junk.
Flexible service: Office is a place that is not free to be decluttered at any given time. We ensure dumpster delivery and pickup takes place when official demands are low. Hence, we always ensure that our service is never a hurdle for your daily official needs. We care for your convenience.
Dumpster sizes: We have a variety of dumpster sizes to offer. Upon calling, our representative will inquire about the details of the plans of the cleanout at your office. They guide you about the size of the dumpster you may need. As the volume of debris increases, the size of the dumpster needed to dispose of the waste also increases. Our expert representatives will guide you at every level of our service.
Friendly service: Our representatives are very friendly. They always impart friendly advice to our costumers at every level. Customer-friendly service, along with customer satisfaction, is our mission. We are always at your disposal. We provide free consultation whenever you call. You can also ask for free quotes. Visit our website or call us. We will keep you updated.
Here is a list of our services you can get at Palm Beach Gardens Junk Removal and Trash Haulers:
---
Palm Beach Gardens Junk Removal and Trash Haulers is the top company in Palm Beach Gardens that offers the best residential and commercial junk removal services. Here's our additional services:
---